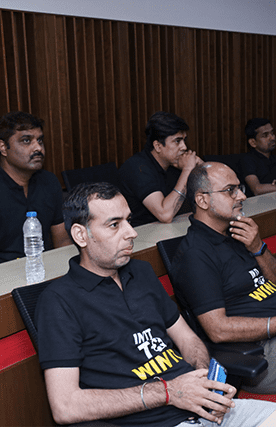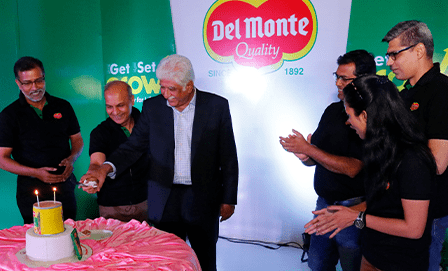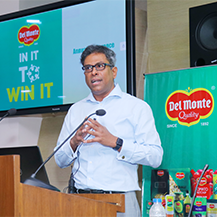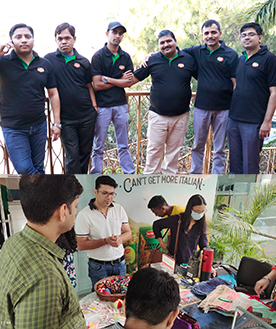 Who We Are
Our culture that helps us thrive
A nurturing and an inclusive environment is what life at Del Monte India is all about. Our employees are encouraged to take risks and still feel the safety net is around them without any undue stress and pressure to deliver. At Del Monte, innovation and the spirit of entrepreneurship are key.
There are no barriers to approachability and accessibility at all levels. Collaborating with each other to learn from experiences helps us maintain a positive work environment.
We strive to create a culture of appreciation to recognise the efforts behind the task more than the end result of the task itself.
Employee engagement activities such as Fun Fiestas, Birthday Celebrations, Fun Fridays and marking big and small achievements with joy just bring us closer to each other.
For us, our people are our biggest strength. In our endeavor to create and sustain a highly engaged workforce to deliver our organizational goals we work with our people on aligning their aspirations with the organizational priorities, providing them opportunities and empowering them with clear accountabilities.
The story of Del Monte India
For a better understanding of what we do
Del Monte Foods Private Limited is a joint venture between Bharti Enterprises and Del Monte Pacific Limited. The venture offers branded processed food and beverage products in India and some SAARC countries under the Del Monte brand. Along with this, we export fresh and processed vegetables to UK and western Europe.
We are an integrated food solutions company, hailing from different cities brimming with the aroma of delicious delicacies of the world. We have been a part of Indian kitchens for almost 12 years, delivering high quality products to our customers.
Being a part of our consumers' culinary pursuits, we bring you products from different categories, namely Italian, Dips & Spreads, Ketchup & Sauces, Dried & Packaged Fruits and Beverages.
With each and every product we bring to you, we help you innovate, experiment and do more with food at home. Experience the world on your plate; explore our wide range of offerings and 'Taste Life Like Never Before'.
Our Achievements
One of the R&D centers for Del Monte range of products is located at Hosur, near Bengaluru, which won the CII National award for Food Safety and Quality. Humbled by the recognition, we do take great pride for a world class manufacturing facility. This state-of-the-art facility manufactures a range of Fruit Drinks, Sauces, Dips, Dressings and Condiments. The plant has fully integrated & highly automated lines consistently producing quality products.
For fresh produce, we have an Agriculture Centre of Excellence (ACE) at Ladhowal, Ludhiana in Punjab, which is one of the largest agricultural R&D facilities. Spread over 300 acres with a state-of-the-art, protected and open field cultivation for exotic vegetables, we ensure proper process is followed for our produce.
We also have an R&D and demonstration farm in Karad, Maharashtra. We engage with over 5,000 partner farmers across 8,500 acres in Punjab & Maharashtra. They are GlobalGAP compliant and grow vegetables for export to Europe.